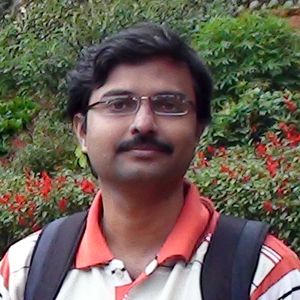 Professional Brief
Professional Experience
Associate Professor,
PSG Institue of Advanced Studies
Assistant Professor,
PSG Institue of Advanced Studies
Project Associate,
Industrial Research & Development, Indian Institute of Technology Delhi, India
"Development of Nanomaterial Enhanced High Performance Coated Textiles"
– A Project funded by Department of Science & Technology, Govt. of India under "Nanomission"
Bleaching & Finishing Section, Shirting Business Division Manager Manufacturing ,
The Arvind Mills Ltd., Ahmedabad, India
Awards
Brain Pool Fellowship from Republic of Korea Government to work on extrusion integrated 3D bioplotter at Seoul National University of Science and Technology
Seoul for 12 months in 2019-20
Endeavour Executive Fellowship from Australian Government to work on nerve guide conduit at RMIT
Melbourne for 4 months in 2018
Invention award on lignin capped nano copper based colorants from Intellectual Ventures
USA in 2015
Invention award on three dimensional scaffolds for tissue engineering from Intellectual Ventures
USA in 2012
Department of Chemicals & Petrochemicals, Ministry of Chemicals & Fertilizers, Govt. of India under the category of Research in the field of Polymer Science and Technology for the work titled "Polyurethane/Nanographite based Multifunctional Coatings for Defence Applications"
Winner of 3rd National Award for Technology Innovation (2012-13)
Others
Member of European Society for Composite Materials
Member of American Nano Society and Materials Research Society of India
Visited CMSE, Donghua University, Shanghai for one month (August 2012) as a visiting scholar to work on collaborative work on graphene reinforced nanocomposite fiber
Six Sigma green belt from Motorola University (2006)
Life Member of Materials Research Society of India
Institute for Smart Structures and Systems (ISSS) – Life Member
Organized International conference on Industrial Textile InduTech 2012 as Joint Secretary at PSG College of Technology in August 2012
Recognized PhD supervisor by Anna University as faculty of engineering in polymer nanocomposites and Bharathiar University in Nanoscience & nanotechnology
Research Interests
High performance polymer nanocomposites
Biomedical devices
Electrospun functional nanofibers
Designing of polymer scaffolds for tissue engineering
Books
Hybrid Nanographite based Polymeric Nanocomposites
Amitava Bhattacharyya
LAP LAMBERT Academic Publishing, Germany | 2012 | ISBN: 978-3-659-13579-8
Patents
Design, Fabrication and Method of Producing Micro, Meso and Nanoporous Three Dimensional (3D) Scaffolds for Tissue Engineering using Removable Needle Technology
Amitava Bhattacharyya, R. Selvakumar
(Applied, Appl. No. 2669/CHE/2013 dated 19/6/2013)
Monograph
Nanotechnology – A New Route to High Performance Functional Textiles
Amitava Bhattacharyya, M. Joshi
Textile Progress | September 2011 | 43/3 | pp. 155-233 DOI:10.1080/00405167.2011.570027
Articles in Tread Journal
Mimicking the nature Camouflage Fabrics
Amitava Bhattacharyya, M. Joshi
Asian Technical Textiles | 2008 Vol. 2 | No2 | pp. 39–43.
Research Scholars
R. SENTHIL KUMAR
Designation: Senior Research Scholar
Project: Development of Syringe based invasive blood pressure sensor Phase II
Mr. T.Sarathi
Designation: Senior Research Scholar
Project: Functional, Innovative and Smart Textiles
Mr. R. Nagarajan
Designation: Junior Research Engineer
Project: Functional, Innovative and Smart Textiles
Ms. Anjali Prakash
Designation: Junior Research Fellow
Project: Functional, Innovative and Smart Textiles
Ms. Mercy Dayana
Designation: Junior Research Fellow
Project: Functional, Innovative and Smart Textiles